Lose weight, tone and firm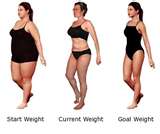 Losing weight can be very easy if you have someone that specializes in weight-loss secrets by your side helping you do it correctly form the beginning. We take all the guess work out of weight-loss so you will finally be successful and most importantly, keep the weight off.
As time goes by, we will incorporate cardiovascular movements to further quicken your results! You will never be asked to do something you are not able to. We modify every program according to your personal fitness level and progress only when you are ready. We make it fun, fast and easy.

If you come in three times per week and spend a minimum of 15 minutes per session, (you may stay as long as you like) you will notice big changes in 4 weeks, 4 times per week, results in three weeks, 5 times per week, results in two weeks. The average pounds lost at Zen is 1 to 3 per week, depending on your body type.

---
While we are losing weight, we want to develop nice muscle tone so when the pounds drop off, we have great shape, tight skin and look and feel awesome! Lean muscle also helps keep the fat from coming back!