Weight-Loss Surgery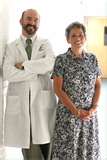 At Zen we use The Fremont Bariatric Program and have helped hundreds of people like yourself diminish the need for plastic surgery, keep you from gaining the weight back and most importantly, keeping you healthy .

We will guide you every step of the way, pre & post surgery. Due to the fact someone is with you every time you come to our studio, we can adjust your programs on a daily basis according to how you are feeling on a particular day and what your caloric intake was before you came in. Just communicate the needed information with us. We also have The Fremont Bariatric Program for nutrition which we use in conjunction with The Take Shape for life medically backed weight loss program, you get a double whammy!

Zen helps those who have had the surgery maintain their lean muscle tissue, tighten up sagging skin, minimize stretch marks and keep their nutrients up so they don't suffer the common side effects of the surgery.

We have a Weight-Loss Surgery Program which includes: Body wraps, nutrition and supplements! All the items you will need to finish off your new body!
---