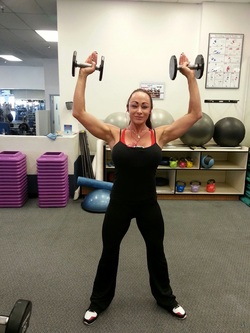 Shoulder pain anyone?? This past holiday I too strained my shoulder. I did 14 days of Zen shoulder treatments using the info. found in Back to Body Basics and at Zen Studio. Dr. Navarro practices what she preaches and it works! If you have shoulder pain, give her a call 510-754-2257
---
Myofascial release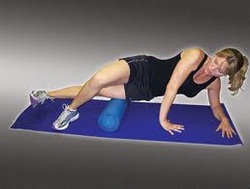 We are proud to be one of the few Studios to TEACH this form of healing.
Out of all the therapies known to minimize muscle pain and increase the bodies ability to heal, move correctly and STAY pain free, rolling PROPERLY was the only treatment which actually worked.
After one 25 minute session, your pain and soreness is usually alleviated by more then 30% and for postural and chronic muscle pain correction , the healing time is increased 45% when done once per week for at least 12 weeks in conjunction with corrective exercise treatment.
This means the typical Zen patient is usually pain free with in 12 weeks!
Zen's therapy team also has a private program which uses specific exercises using the foam roll and other various rolling devices.
If you would like to contact Dr. Navarro for a free consultation to find if this form of treatment is right for you, please visit out "contact" page!


---
Treatments:

Arthrokinematics


At Zen we practice Arthrokinematics Corrective Exercise. This is the ability of a joint to move through its bio-mechanical range of motion with in the Human Movement System.

Movement is how we are able to perform all activities, ranging from those necessary for daily living to job tasks and recreational enjoyment. Our ability to move is one of the most important aspects of our existence!
When a Human Movement System impairment exists, there are muscles that are overactive and those that are under active around a joint resulting in an altered body alignment and movement pattern causing pain, weakness, limited range of motion and injury.

There are four areas of the body that are effected by under active and over active muscles. The first is the foot and ankle complex.
This is a region of the body with the greatest influence on the entire Human Movement System because it is our base of support and the main contact point between the ground and the body. if there is movement impairment centralized within the foot and ankle region it can lead to various issues such as:
Plantar fasciitis
Achilles tendonitis
Shin splints
Jumpers knee
Runners knee
Low back pain
Hamstring, thigh and groin strains

The second area is the Knee. This is the region of the body that is greatly affected by the joints above and below it. If there are alterations to other joints that effect movement, this will increase stress in the knee and the following injuries:
Jumpers knee
Runners knee
Medial, lateral and anterior knee pain
Chondromalacia patellae
Low back pain
Hamstring, thigh and groin strain
Shoulder and upper extremity injury
Plantar fasciitis
Achilles tendonitis
Shin splints

The third region that is greatly influenced by other areas of the body above and below it is the shoulder. As one of the most unstable or mobile joints in the human body, it is reliant upon precise muscle activity for support. Any muscle imbalance through the human body can dramatically alter the support mechanism of the shoulder which leads to these injuries:
Supraspinatus tendonitis
Biceps tendonitis
Impingement syndrome
Shoulder pain
Tennis elbow

Lastly, the lumbar hip complex. It is the region of the body that has a massive influence on the way the ENTIRE body moves and has approximately 35 muscles attaching to it. Any dysfunction in this region will lead to injuries throughout the body including all the injuries listed above.

As you see, the muscles in our body inter act with all the regions of our body and a misalignment in one region can cause symptoms in another. If you or someone you love is having any discomfort, please contact us! We usually can eliminate or dramatically decrease pain in the first visit. With this type of treatment, its no longer necessary to "Live with the pain."
The Corrective Evaluation processes is used to identify a dysfunction of the nervous system, skeletal system and muscular system, developing a direct plan of action and implementing the corrective strategy right then and there to begin the elimination of pain and injury!

The number of sessions to correct an existing imbalance depends on the extent of impairments. This will be determined after the evaluation. The length of the evaluation is about 30-40 minutes, and the length of each session depends on the condition of the patient and will increase gradually as improvements are gained.

What are you waiting for? Stop living with pain and get your life back TODAY!!


In addition, Dr. Navarro works with your physical therapist to assist you where they or your insurance left off, as we provide "Functional Physical Therapy."

We have worked with a lot of people who have had back, knee and hip surgeries and they have had awesome recovery and improved range of motion and strength in a very short period of time.

Zen also has corrective programs to aide in chiropractic adjustments so you will be able to minimize your doctor visits, and correcting postural problems, balance issues and range of motion while diminishing pain. Chiropractors in cities which have one of our studios, refer all their patients to us first. We have a 100% success rate on the above mentioned issues.

We work on stabilization of the back, hips, knees and neck and have specific programs to help alleviate lower back issues and most cases, eliminate lower back pain completely.

The program also helps strengthen your joints that become sore and weak due to repetitive motion issues. Some repetitive motion issues are: carpal tunnel, lower back pain, tennis elbow, frozen shoulder, knee & hip pain and fallen arches.

Now you know living with pain can be stopped! Start living the life you deserve to have for you and your family!