Pilates Reformers & Re-bounders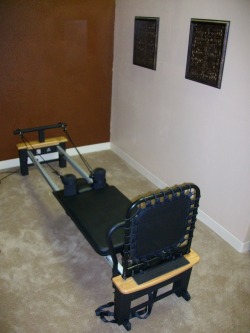 Pilates Reformers and Re-bounders are pieces of exercise equipment developed by Joseph H. Pilates, designed as a method to condition the body using over 200 different stretching and strengthening exercises.
Pilates Reformers are an awesome way of rehabilitation as well as rapid weight loss, building strength, agility, flexibility and coordination with out adding bulk, giving our bodies a sleek "dancer-like" appearance.
Zen Pilates and Fitness uses all modalities of the Pilates family when creating your private session. We not only implement the Reformers and Re-bounder but you may also need the Arc and Barrel work, not to mention a sprinkling of our special design, Tramp -Pilates.

---