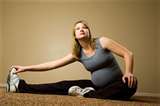 Experts now agree, that during a normal
pregnancy, moderate exercise is safe for the baby and can provide benefits for mom-to-be as well. Pregnant women who exercise are less likely to experience varicose veins, hemorrhoids, low back pain, fatigue, makes labor more tolerable, an easier, faster delivery and helps keep your body
fat down as well as getting the body back more quickly after child birth. In addition, it helps the
baby be healthier as well!

Zen has specialized Personal Training programs for first, second and third trimesters as well as special programs for mom's who will be breast feeding. Certain activity in some women may diminish
breast milk production, so it is important for your trainers to monitor your activities.

We will also give you exercises to do at home for the days you are not feeling so hot and after the baby comes understanding time will be valuable! It is also of equal importance to monitor your nutrient intake. Our nutrition program is dialed in for maternity caloric intake and our pharmaceutical grade vitamins will also aide in your and your baby's health and development!

After baby comes it will be time for you to revitalize with some Cellulite Therapy body wraps! Just the thing to get your body back to better then it was pre-baby!

Check out how Pilates helps during pregnancy! WE have it all.

---