IMPORTANT

Please consult your health care professional before exercising. These exercises are not intended to take the place of your current therapies or directions by your health care professional. If you experience any pain or discomfort, STOP!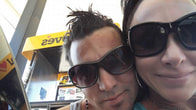 STAY HAPPY WORKOUT

WALK for 15 minutes
squat 30 reps
jumping jacks 1-3 minutes
walk for 10 minutes
squat 20 reps
crunches for 1-3 minutes
Easy and you can do this at home with NO EQUIPMENT.. now are you not happy?

---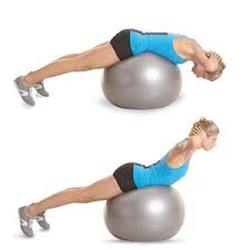 Upper body on the ball:

1. single arm dumbbell row
2. single arm rear delt fly
3. single arm triceps kick back
4. back extension.
​do all 3x18

---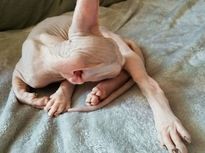 ALL LEGS:

Part 1: sit on physio ball : center bounce, wide bounce, alternate bounce: do each for 1 minute non-stop
PART 2: sit on floor lock knees:
A. leg lift center
B. leg lift to the side back center
C. leg lift back and forth
D. leg lift to circles
DO EACH 15 to 20 times per leg
​PART 3: repeat part 1.

---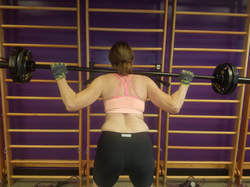 ---
GET FIT ANYWHERE PROGRAM: use hand weights
5 minute cardio machine /walking warm up
50 squats
5 minutes of cardio machine/walking
40 squats with biceps curls
5 minutes cardio machines/ walking
30 squats triceps extensions
5 minute cardio machine/ walking
20 shoulder press
10 minutes cardio machine/walking
​APPROX 35 minutes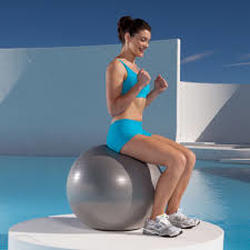 BOUNCING BALL WORKOUT

sit on stability ball with feet apart for balance:
do each move 1 minute and repeat 3 times.
1. bounce your body up and down with out lifting feet
2. bounce lifting both feet off floor
3. bounce alternate foot lift, like marching
4. jumping jacks
5. hop bring feet close, hop bring feet wide
6. sit on edge of ball DO NOT HOP: alternate side reach
7. hips side to side like belly dancing
8. hips rotate in a counter clockwise circle
9. hip rotate in as clockwise circle
​

---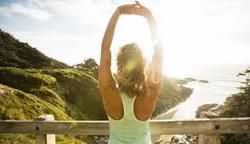 SPRING OUTDOOR INTERVAL TRAINING

Use ankle weights on your wrist.
Go at your own pace.
You can do this anywhere!! At the beach, camping, around the cabin or at home!
You can extend walk time as well!
​
Walk 10 minutes and increase your speed as you go.
STOP:
Squat biceps curl, triceps extension, squat side raise, shoulder press: 20 reps

Walk 10 minutes increase your speed as you go.
STOP:
Squat hold upper cut, lunge side raise, lunge other leg front raise, bent over fly: 30 reps each
Walk to ending location beginning with a faster speed to slower.
When you arrive at ending site:
Squat to biceps curl, triceps extension, squat to side raise, shoulder press, squat hold upper cut, lunge side raise, change leg to lunge to front raise, bent over fly: 15 reps all
---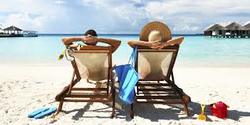 HOTEL GYM WORKOUT PROGRAM:

warm up ; 10 minutes cardio
pick one lower body machine and one upper body machine; do each one one minute three times alternating each machine
go back to cardio, faster this time, 5 minutes
choose a different lower body machine and a different upper body machine, if they are available, and repeat what you did for the first sets of machines.
go back to cardio for cool down of 10 minutes.
​This is a 37 minute program

---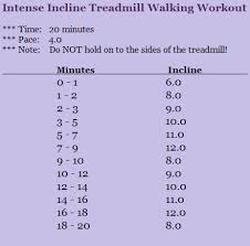 BEGINNER TREADMILL PROGRAM:

Begin speed and incline at your pace. Start by doing program 2x per week for 2 weeks, increase to 3x per week over the next three weeks and 4 or more times per week after the 5th week.
---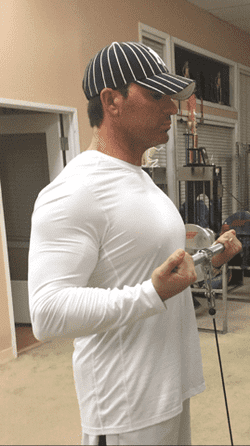 2016 HOLIDAY WORKOUT

DAY 1
PGS 63-66: 3X20
RERPEAT WITH 2-3 POUND DUMB BELLS
PGS 56-59: 3X20: ADD ANKLE WEIGHTS IF DESIRED
PGS 51-57

DAY 2
PG 130-135: 3X ONE MINUTE EACH
EACH SET GO FASTER
136-138: 3X20
PGS 125-130

FOCUS ON 20-40 MINUTES OF CARDIO 3-5 TIMES PER WEEK.



---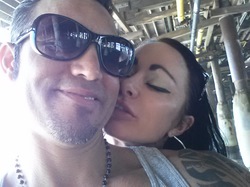 Here are two different workouts to do while i am gone:
If you have a pilates ring:
FRIDAY: lying chest, ab, inner thigh, outer thigh, pullover pulse. 1 minute each, 3x
SATURDAY:
standing: inner and outer thigh pulse, chest pulse, above head and hip pulse. 1 minute each, 3 times
SUNDAY:
standing ring around ankles: side, front and rear pulse 1 minute each 3 x
TAKE ONE DAY OFF

​Workout using dumb bells while i am gone
FRIDAY:
lying chest press, chest fly, triceps skull crushes, pull over. 3x20 all
SATURDAY: squat, lunges, toe raise, floor bridge. 3x15 all
SUNDAY: biceps curls, tricep kick back, shoulder press, bent over row.
3x25 all
TAKE ONE DAY OFF

---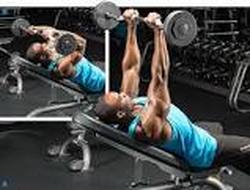 TRICEPS BABY!!

Barbell triceps extension 3x43
Dumb bell triceps kickback 4x33
cable triceps push downs 3x43
dumb bell skull crushers 4x33

---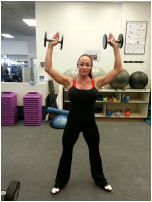 ARMS AT HOME

3x22 each
super set all

dumb bell shoulder press
dumb bell side raise
dumb bell biceps curl
dumb bell hammer biceps curl
dumb bell kick backs
​dumb bell bent over row


---
CHRISTMAS 2015 WORKOUT
DAY 1:1x30 each
lay on side: 90 degree leg lift
center leg lift
straight leg circles both directions
CHAIR for balance: wide squat
close squat
lunge both sides

DAY 2:CHAIR 1X30
* side ab knee to chest
* sit center: leg lifts
alt leg extension
* side ab scissor kick
* Lay on floor heels on chair: crunch
bicycle
DAY 3: 2x20
tube attached to door: FACE DOOR
biceps curls
triceps kick back
wide row
close row
FACE AWAY FROM DOOR:
chest press
chest fly

*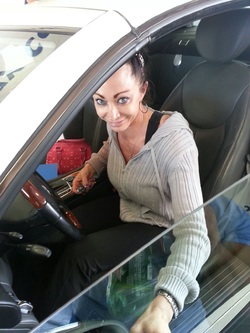 ON THE GO WORKOUT:

A.
Pages 183-188/ single arm
3x15 each

B.
page 195/1x8
page 196/2x12
page 229/2x12, behind head

C.
place a band around calfs:
page 56 & 57/3x20
place band around thighs
page 59/ 3x20

Cardio 5x per week : 35 minutes



---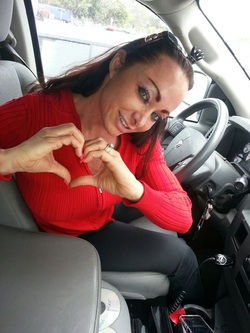 HEART HEALTH TRAINING:
MONDAY:
Pages: 62-66
pages: 69
pages: 76-81

TUESDAY: cardio: 20-35 minutes

WEDNESDAY:
pages: 51-55
pages: 56-59

THURSDAY: 20-35 minutes cardio

FRIDAY:
pages: 239-240
pages: 245-246
pages: 247
pages: 256-257

SATURDAY and/or SUNDAY: cardio 20-35 minutes


---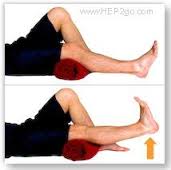 KNEE PAIN?
Begin with the pillow push!
Keep your ankle, knee and hip in alignment, gently press knee into a pillow, squeezing your thigh, and hold for about 5 seconds.
repeat 10 times.
Do daily for about two week.


---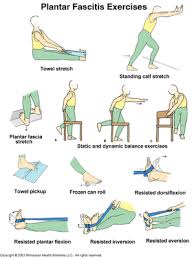 PLANTAR FASCITIS:
Foot pain?
even if you don't suffer from plantar fascitis, these exercises can help ease general foot discomfort.
The catch to healthy feet is you must continue to do these moves even after they feel better. Sometimes it may take up to two years to heal.
Don't give up! Keep taking care of your feet and they will take care of you.
1. exercise chart daily
2. wear comfortable shoes
3. wear shoes which fit correctly
4. get new tennis shoes before beginning treatment


---
BEACH BOUND

DAY ONE: LEGS
warm up pages 62-72: 2x each
pages 58&59 add dumb bells : 3x12
pages 147& 148: 1x20
pages 203-205: no band, hold dumb bells at your side. 2x20

DAY TWO: UPPER
warm up: 143-145: 2x each
pages 76-81: do while standing 3x18

DAY THREE: COMPOUND
warm up: 62-72: 2x each
page 168 hold dumb bells . 3x15
pages 229-203: 3x20



DAY FOUR
pages 62-72: 5x each
pages 143-145: 5xeach



ENJOY HOLIDAY WORKOUT...NO EXCUSES

Day 1;
Page 178-182: hold towel
Page 183-188: 4x30 each
Page 189-197

Day 2:
Page 221-226: use chair for balance
Page 226-232: 3x40 use chair for balance
Page 233-237

Day 3:
Page 239-246
Page 247-254: add tube around knees. 3x28
Page 254-263
---
CARDIO : STATIONARY BIKE< TREADMILL< ELLIPTICAL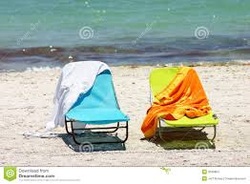 TRAVEL PROGRAM:
towel
chair
Back to Body Basics Original Intent book

DAY ONE:
pgs: 51-55: follow directions
pgs: 56-61 & 247&248: 3x18 slowly
pgs: 62-69 follow directions
LOWER BODY


DAY TWO:
pgs: 267-269 follow directions
pgs: 183-188 : 3x12 slowly
pgs: 189-192 : 2x10 slowly
pgs: 62-69: follow directions
UPPER BODY

** rotate day one and day two continuously during vacation.


---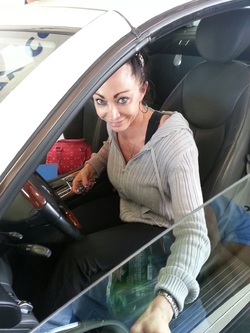 NOVEMBER ON THE GO EXERCISES

Day 1: chest
pages; 189 5x
pages; 204-207, 233-234, 279-281 : 3x20
pages; 267-269 5x

Day 2: triceps
pages; 125-126 : 10x
pages: 183-188, 275-276: 3x30
pages : 158: 5x

Day 3: legs
pages; 56-61, 71-72, 104-118: 3x30
pages: 143-145; follow directions

Day 4: shoulders
pages: 76-79, 229-230, 211-212,195: 3x18
pages: 215 & 216: follow directions

Day 5: abs & biceps
pages : 256-263: 2x30 all
pages: 273-274: 3x30
pages 139-141: follow directions



---
8 WEEK HOME WORKOUT

FIRST: choose your menus for the 8 weeks off the menu page.

DAY 1:
Pg. 51-55 follow directions
pg. 56-61 3x30 all. use ankle weights
pg. 62-69 follow directions

DAY 2:
pg. 71-75 follow directions
pg. 76-81 4x28 all
pg. 71-75 follow directions

DAY 3
pg. 143-146 follow directions
repeat pg. 143-152 add ankle weights , 3x20
pg. 152-155 follow directions

DAY 4:
pg. 51-55
pg. 71-75
pg. 152-155
follow directions all
** Take a day off and repeat cycle for 8 weeks.
---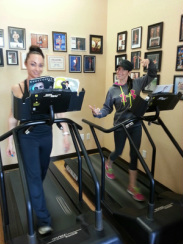 POSTURE, BALANCE, COORDINATION
DAY 1
use a small ball:
place behind back: crunch, arms on chest, hands behind head. 10x each

DAY 2
Pages: 71-75 follow directions
pages 76-81 3x20
pages 84-85 follow directions

DAY 3
pages 239-257 follow directions
pages 267-272 follow directions
---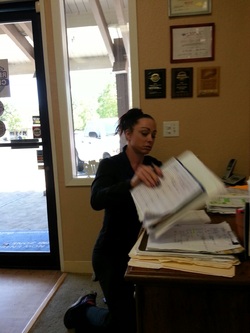 YOUR DESK
we ALL sit too long while working. Here are some moves to make sure you feel awesome! They will help neck, total back, hip, knee, and wrist pain! So....DO THEM every 30-60 minutes throughout the day.

1. make sure your feet are ALWAYS flat on the floor. If your chair is too high and can not be adjusted, use phone books. See, they are good for something!!
2. follow these in your Back to Body Basics book.
pages 74-75, 94-95, do while sitting: 161-162, 200-201, 174-176

If you do not have your book, pick one up at Zen or order at www.amazon.com
---

FROZEN SHOULDER and GENERAL PAIN WORK

There has been several request for shoulder range of motion work lately. Here are the best exercises :
RANGE OF MOTION:
pages 178-182, 189-192
STRENGTH:
pages 183-188, 192-197
These moves also help frozen shoulder. Do in the order above and begin with 8 to 10 reps one set each or until you can no longer keep proper form. DO NOT push your self. If a movement causes pain, STOP!!



---
BED WORK: LEGS, FLEXIBILITY, CORE
Do while in bed.
Page: 239: 1 per leg hold 5 seconds
page: 243: 3x each leg
page: 246: 10x
Do after shower/bath
pages: 267-269: 5x each arm
DO DAILY to help with range of motion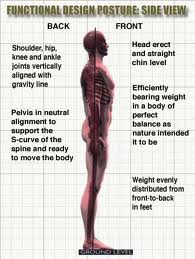 POSTURE

Pages 178-182
Pages 190-192
Pages 267-272
---

SHOULDERS
If you have stiff and sore shoulders, or suffering from limited range of motion or just got done with physical therapy and STILL don't have strength or stability....Now you will!!

Pages 178-182 5x slowly
pages 183-188 8x each
pages 189-192 hold 3 seconds

Do two - three times per week.
---
JOINT STRENGTH

Pages 143-155
page 180: 5x
page 199
pages 202 & 203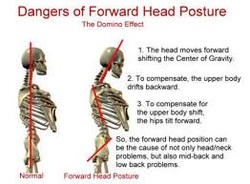 CERVICAL/POSTURAL CORRECTION
DAY ONE
pages 71-75: 5x slowly
pages 76-81 : 1x10
pages 71-75 5x slowly

DAY TWO
pages 5155 5x slowly
pages 56-61 2x 13
pages 51-55 5x slowly


DAY THREE
pages 143-146 5x slowly
pages 147-151 1x12
pages 143-146 5x slowly
---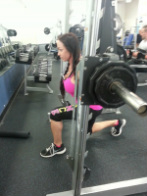 June 13-June 23 workout:
Day 1.
pg 183-185, 213-214, 274-277, 212, 277-281 do all 3x18
day 2
282-285, 57-59, 106,109,113. do all 3x35
repeat every other day
---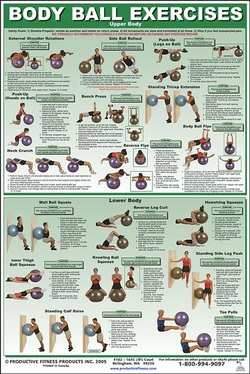 Ball size: 55cm.

Print this chart out and choose 10 moves per week. Begin with 3x18 reps.
---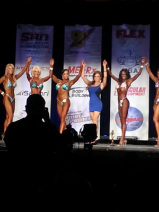 GET IT WORKOUT!!

page 147-151
page 246-253
page 273-279
page 58-59
do all non stop 30 times 3 rounds daily in addition to regular workouts for 6 weeks.
---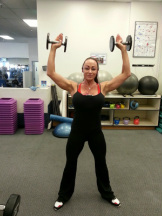 DAILY FIX:
pages 62-69; follow directions
pages 56-59; 3x18
pages 94; 30 reps
pages 213 & 214; 2x20
pages 267-269; 3x each
---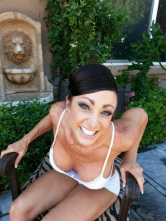 SPRING TIME STRETCHING

pages: 62-69: follow directions
pages: 143-147: follow directions

Great for runners, golfers and when you wake up feeling stiff.
---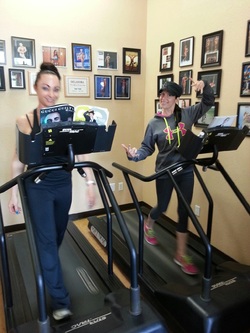 THREE DAY WEEKEND WORKOUT
DAY1:
cardio 20-40 minutes
pg. 99-103: follow directions
pg. 103-118: 2x10-15 reps
pg. 119-123: follow directions

DAY2:
cardio 20-40 minutes
pg. 71-75 : follow directions
pg. 76-82: 2-3 x 10-18 reps
pg. 84-86: follow directions

DAY3:
cardio 20-40 minutes
pg. 262-263 & 267-272: follow directions
---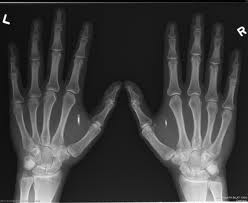 CARPAL TUNNEL anyone?
It's a fix! Do these moves multiple times daily , even when you feel better!
Pages 267-269
Pages 174-176
From your Back to Body Basics workbook



---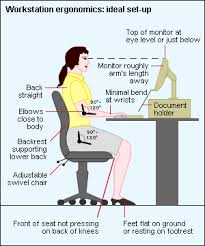 Set your work station up first thing in the morning. do NOT readjust during the day. The station has NOT moved, its YOU!! When you feel the need to move things around, its time to stretch and get YOUR body back into proper position.
---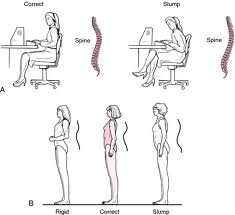 BACK PAIN
DAILY:
Pages 239 & 243 1x 3 second hold each leg while still in bed.
Pages 267-269 5x after showering
Do before bed as well

While at desk:
Pages 62-69
Pages 50-51
slowly

For complete recovery of back pain, you must also change the way you walk,sleep, sit and stand in addition to your daily corrective work stated above.
BACK TIPS:
ALWAYS walk, sit and stand with your chest up
Continue your daily corrective work even if your feeling better
Do NOT tuck hips.
Sleep with a body pillow
Set up your work station in the morning. Do NOT change it during the day.
---
BALANCE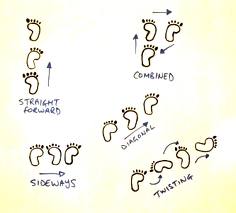 Believe me, we ALL need help with this. To make this more challenging, add items you need to step over and around.
---
BACK and CORE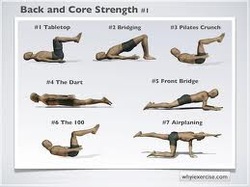 These are perfect even if you suffer from slight back pain. Do each movement SLOWLY and with control.
---
TOTAL WEEKEND WORKOUT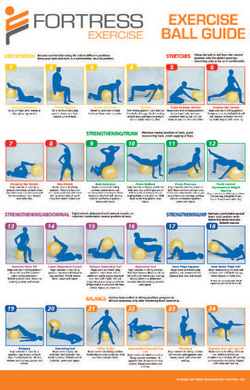 Make sure you are using the correct ball size for your height. A 55cm ball usually works for most people.
---
Sore or weak ankles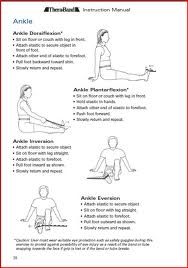 for best results, try to do daily
---
Physio ball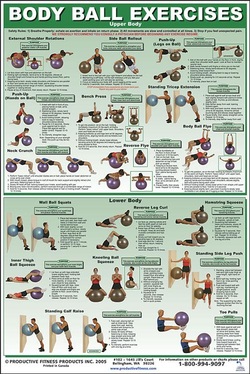 Now is the time to get your ball out of the hall closet and blow it up!

---
Airplane stretching


---
Legs legs legs..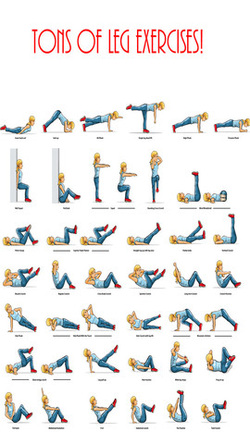 Begin with 1x12 and work your way up!

---
ELIPTICAL


Take your Eliptical workout to a new high! You will never look at this machine the same again!

---
Function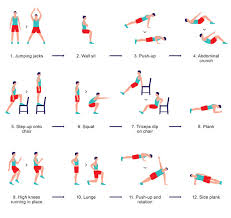 Always use a chair with NO wheels.
If you experience pain while doing any of these moves, stop. Some of them are advanced.

---
For dads Golf game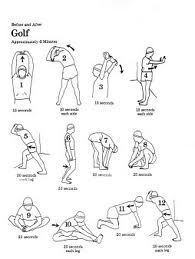 ---
Upper body and posture correction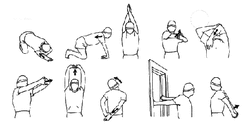 A perfect way to begin everyday!

---
Total body strength and flexibility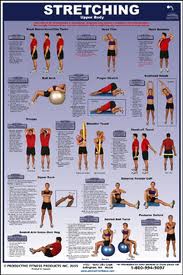 Be sure to use a Physio ball that is the correct size.

---
ANKLE PAIN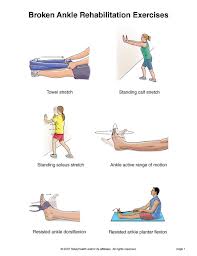 Once you have twisted or sprained an ankle, it becomes more vulnerable to the same injury. It is important to keep our ankles in top condition because they support our entire body through movement.
If you have had an injury of any kind, make sure you perform a calf stretch before walking, training, and sports to improve their range of motion and prevent injury.

---
TOTAL BODY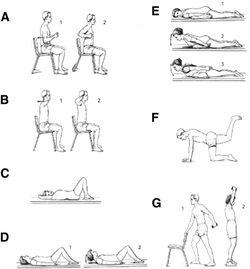 These are awesome for sore joints, back and neck pain.

---
Treadmill program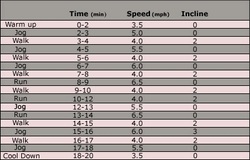 This one is amazing. Keep track of your calories burned, and increase that number each session

---
Hands and wrists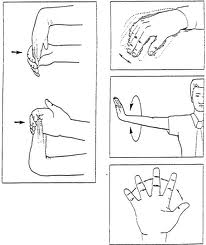 Great for carpol tunel, sore hands from gardening and working on the computer!

---
Low body stretches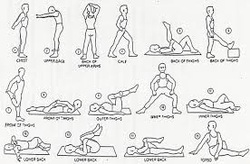 If you have knee issues, skip #7 & 8.

---
Sore feet?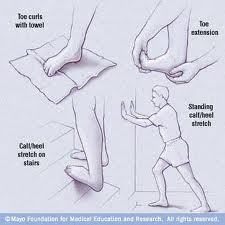 If you suffer from sore feet, these moves are for you!

---
Weekend warrior moves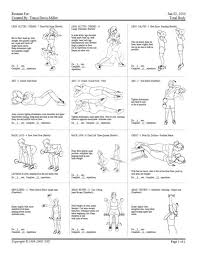 these are awesome total body moves to get you through a day or days which you are unable to hit the gym! Modify as needed.
---
Got low back pain?....Not anymore!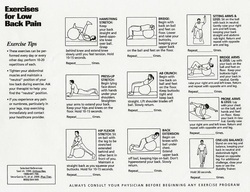 Do these moves at least once per day to rid your self of that low back pain!

---
Lower body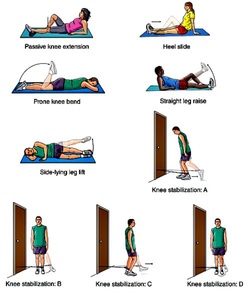 This is AWESOME for knee issues and helping to rid knee pain.

You will need:
A door that closes tightly
Yoga mat
Tube: lite or medium


---
Total body Physio ball weekend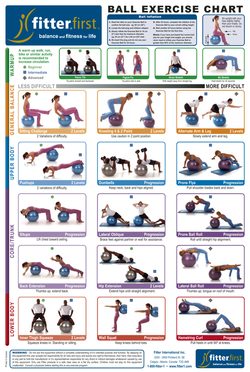 Size does matter!
Ball sizes:
55cm = 5'7 and under
65cm = 5'7 to 6'6
75cm = 6'2 and over

---
Back flexibility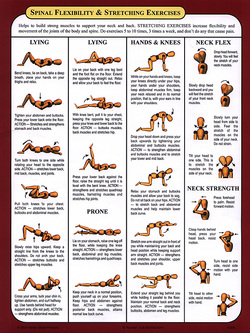 Do slow and controlled
Do NOT force range of motion
Begin with one set each movement and add a set as you feel comfortable

---
Total body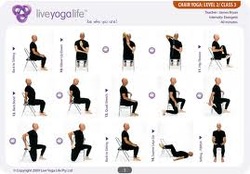 This is awesome and can be done ANYWHERE!! If you have knee problems, do not do any of the kneeling exercises. Check out their web site for more moves!

---
Total body release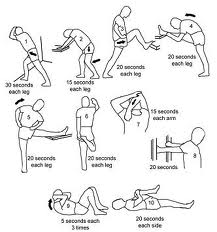 Move into each stretch slowly. Begin counting when you reach a comfortable stretch. If you feel pain, stop. Your range of motion may not be very much. These stretches will take practice. Do NOT FORCE A STRETCH or bounce.

---
Chair stretching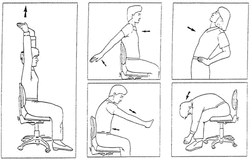 If you sit for a long time at work OR in front of the TV... PLEASE do these to release the pressure of your back and correct your posture. It only takes a minute and you won't look like an idiot at work! :)

---
Sleep..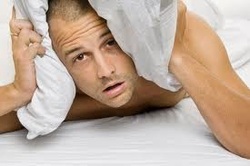 Do you often wake up feeling fatigued and with body soreness or back, neck and shoulder pain that wasn't there before you went to bed the night before? Don't toss your mattress just yet. It could be the position you are sleeping in during the night. Try these positions. They take practice but I promise, it will change your world!

---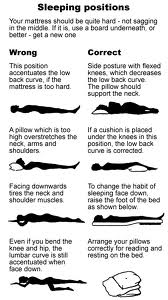 Using your foam roller to sleep...