Traci Saba Jan. 19, 2013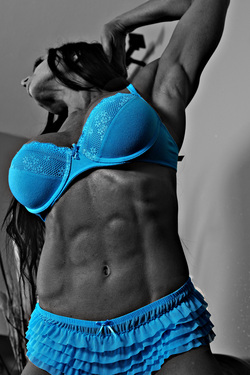 Follow me as I go through an 18 week transformation to gear up for a series of fitness shoots! I begin Jan. 19, 2013...Hope you do as well!

Jan. 19- Feb. 1, 2013



Starting supplements:
AM: 2 Her's , 1 Zen Vitamin, 3 Shred
PM: 1 Revite, 1 Zen vitamin, 2 GMP, 1 EFA

Diet:
Meal 1: oatmeal with brown sugar + lead steak
Meal 2: wild rice + chicken breast
Meal 3: wild rice + chicken breast
Meal 4: raw almonds + dried berries
Meal 5: green beans + chicken

Workout:
Mon- Sun.= Cardio



---
The work outs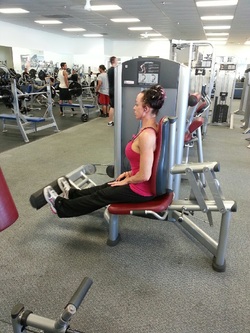 Sunday:
Leg ext.
Dumb bell squat
Smith lunges
Walking lunges
Calfs


Monday:
Pilates

Tuesday:
Abs
Biceps curls
single arm cable curls
Bar bell curl
Abs



Wednesday:
Cable chest fly
Incline press
Rear delt fly
Barbell fat press

Thursday:
Pilates

Friday:
Lat pull
Dumb bell row
Cable row
Pull downs

Saturday:
Dumb bell shoulder press
Cable side raise
Triceps press down
Dumb bell triceps extension



---
Welcome to my life!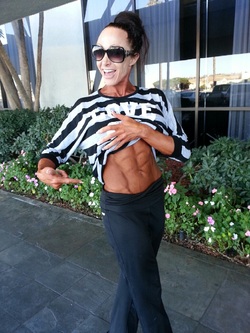 Almost daily I'm asked "what do you eat?", "What do you do all day? How do you do what you do?" Just recently I was told "You should post something about how you can fit it all in, so others will know they can as well."
True!! I am like many others out there working a 16+ hour a day job, being a wife and wishing to have fun. When can we stick in exercising ....OMG and all the time and effort needed to do photo shoots and competitions?.....let me tell you, it can be done. You just have to ask yourself "how bad do you want it?" Follow me!!

My days:
Wake up 4am
Meal 1: 4:20am with first sups
Work:5:20am
Every day while in season:


Cardio session #1
Work more
Training session
Work more
Meal 3 or 4 here
Cardio session 2
Work more
Get home for last meal # 7 and last sups
Prep for following day
Go to sleep around 10pm
The only beverage, water.

WAKE UP AND DO IT AGAIN and LOVE IT!!

I'm not saying this life style is for everyone. But I am proving that if you wish to be healthy, you CAN do it with a little give and take, focus and a smile.
Let's get to it!



---